Title: Someday, Someday, Maybe
Author: Lauren Graham
Publisher: Ballantine Books
Release Date: April 30, 2013
Source: Edelweiss *received in exchange for an honest review
Pages: 352
Genres: Adult contemporary, romance,
A charming and laugh-out-loud novel by Lauren Graham, beloved star of Parenthood and Gilmore Girls, about an aspiring actress trying to make it in mid-nineties New York City.

Franny Banks is a struggling actress in New York City, with just six months left of the three year deadline she gave herself to succeed. But so far, all she has to show for her efforts is a single line in an ad for ugly Christmas sweaters and a degrading waitressing job. She lives in Brooklyn with two roommates-Jane, her best friend from college, and Dan, a sci-fi writer, who is very definitely not boyfriend material-and is struggling with her feelings for a suspiciously charming guy in her acting class, all while trying to find a hair-product cocktail that actually works.

Meanwhile, she dreams of doing "important" work, but only ever seems to get auditions for dishwashing liquid and peanut butter commercials. It's hard to tell if she'll run out of time or money first, but either way, failure would mean facing the fact that she has absolutely no skills to make it in the real world. Her father wants her to come home and teach, her agent won't call her back, and her classmate Penelope, who seems supportive, might just turn out to be her toughest competition yet.

Someday, Someday, Maybe is a funny and charming debut about finding yourself, finding love, and, most difficult of all, finding an acting job.
//  INTERESTED?  //
---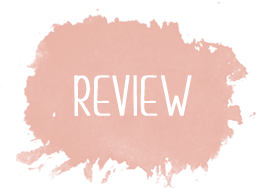 //  COVER TALK  //
I like the cover and the soft colors, the bridge with the lights and the pop of red provided by the girl's coat. I think it catches your eye without being too flashy. I was worried at first that it was a bit generic, but now I really like it. It's got a bit of a nostalgic feel to it.
//  EXPECTATIONS  //
 I LOVE Lauren Graham so I was hoping for a funny, sarcastic read with a good story.
//  MY THOUGHTS  // 
 I didn't even know until someone tweeted about it that Lauren Graham had written a book! How cool is that? Someday, Someday, Maybe is loosely based off of Graham's own experiences in trying to break into the New York acting scene in New York during the 1990s.
When I requested the book I didn't realize it was set in the 1990s, which ended up being a fun time to read about because I was just a little kid. However, at the same time, I didn't get some of the cultural references, although some of them were just made up names I'm pretty sure, haha. Graham did a good job of establishing the setting – the hustle and bustle and attitude of New York was well represented, but it didn't feel cliche. It made me want to not only visit current day New York, but New York in the 90s!
I liked the characters (except her boyfriend, ewww!) and they all showed development throughout the story. Franny was funny and smart, although at times, unconfident and unsure of herself, which I think a lot of 20 year olds, like myself, can relate to. Jane was a great best friend and Dan, her other roommate, was very sweet. Franny's Dad was so funny. Actually the book had its fair share of funny moments!
It was interesting to learn more of the ins and outs of the acting business. It's more complicated than one may have envisioned! I also liked how between chapters there were pages from Franny's agenda with notes and doodles on them. However, this was hard to truly experience on an e-reader screen.
Despite liking the characters, the story lacked a bit of oomph for me – granted, adult contemporary romance isn't really my genre. Sometimes it just didn't completely capture my attention and the ending was a bit too abrupt for my tastes. It really felt like an author's first novel. I think the best thing it had going for it was that you could hear Lauren Graham's voice come through in the writing – she embodied Franny very well.
If adult contemporary romance (I refuse to call it 'chick lit', yuck!) does it for you, I do recommend giving Someday, Someday, Maybe a try. Lots of my fellow book bloggers have given it high praise, and it makes for a good, quick read!

// Share your thoughts… Leave a Comment! //
Have you read Someday, Someday, Maybe? Are you a Gilmore Girls fan (fave episode?)? Do you like adult contemporary romances? Ever wanted to be an actor or visited NYC?
---